11/14/2018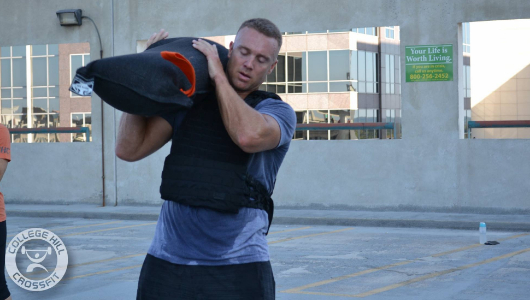 Mindset
"If something is important enough, you should try." – Elon Musk
Yes, we might fail.
Yes, we might embarrass our self.
Yes, we may even look back and laugh at what we chose to do.
But if it's truly important enough, let's go.
It's easy for us to judge a situation with no other inputs aside from history, and assumptions. Great data points to have on our side, but they are exactly that – assumptions of the future.
What it is… the new job, asking out the girl on the first date, changing lifestyles… if it's truly that important to us, it at least deserves a try. Let's not be the ones on our deathbeds repeating those horrific words – "I should have tried".
Metcon
Wrecking Crew (Time)
Teams of 2, 5 Rounds:
2 x 100 Meter Wreckbag Run (one each)
2 x 200 Meter Run (one each)
40/30 Calorie Row (split as desired)
Wreckbag – 50/35
Rx (OPEN/PERFORMANCE): As written
Scaled (FITNESS): 20/14# WB
Target Time: 25-30min
Time Cap: 35min
Next Level
Bar Fight (AMRAP – Rounds)
In a 3:00 Window:
9 Power Snatches
15 Power Cleans
21 Push Jerks
Time remaining, Max OHS (135/95)
*Score is reps of OHS
Rx Plus (OPEN): As written
Rx (PERFORMANCE): 115/80
Scaled (FITNESS): 95/65
Metcon (No Measure)
15:00 Recovery Bike*
On the 3:00, 6:00, 9:00, 12:00, 15:00:
15 GHD Sit-Ups
*See a coach before doing GHDs if you have never done them before!
Rx Plus: As written
Rx: 10 GHD sit-ups
Scaled: 20 Abmat sit-ups
---