10/03/2018
October 3, 2018
10/03/2018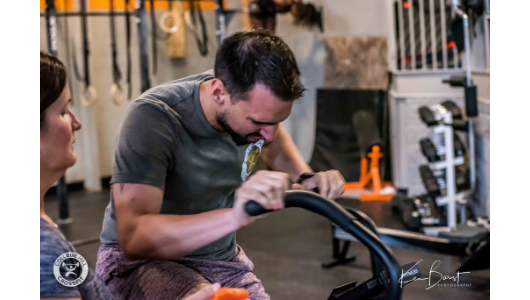 Mindset
"Intensity is the price of excellence" – Warren Buffet
Be the hardest worker in the room.
Nothing amazing was ever created with mediocre effort. What we see from the greats on TV can be misleading. Their work seems so effortless, so, natural. There is so much beyond that surface.
If we truly want to be excellent, to be great, we need to cultivate that intensity. To harness, and run away with it. To value it as the most important aspect towards reaching our dreams.
This intensity, this energy and effort, will bring us a magnification level far beyond any amount of "natural" talent or circumstances will ever bring. We just need to bring it.
Weightlifting
Push Press
Build steadily to a 10-Rep Heavy
Not an all time max, but a 10 rep heavy. All repetitions are taken from the rack. Preparation percentages below. Record heaviest set of 10.
5 Reps @ 60% of estimated 1RM Push Press
3 Reps @ 65% of estimated 1RM Push Press
10 Rep Range – ~ 65% – 75% of estimated 1RM Push Press
Metcon
"Clothesline" (AMRAP – Reps)
Ascending Ladder for 12:00:
2 Push Presses
2 Toes to Bar
2 Box Jump Overs (24″/20″)
4 Push Presses
4 Toes to Bar
4 Box Jump Overs (24″/20″)
6 Push Presses
6 Toes to Bar
6 Box Jump Overs (24″/20″)
Continue adding (2) repetitions to each movement until the 12:00 cap is reached.
Total reps is our tracked score.
R+(OPEN): 135/95
Rx(PERFORMANCE): 115/80, leg raises
Scaled(FITNESS): 95/65, abmat situps, step overs
Target is getting through the round of 10s
Next Level
Deadlift
Building on last week, adding 2% to each set. Final iteration here adding an additional 2% to these repetitions.
3 Sets of 3 @ 84% of Deadlift 1RM
3 Sets of 2 @ 88% of Deadlift 1RM
3 Sets of 1 @ 92% of Deadlift 1RM
*record in wodify
Rest as needed between sets, but aim to keep it to 2:00 or less.
Metcon (Time)
For Time:
50 Manmakers (35/20)
Video Example:
https://www.youtube.com/watch?v=iMNnvhg1JcM)
With two dumbbells in hand, the full flow of a "manmaker":
Pushup.
Row left arm, from plank position.
Row right arm, from plank position.
DB Clean and Press.