10/02/2019
October 2, 2019
10/02/2019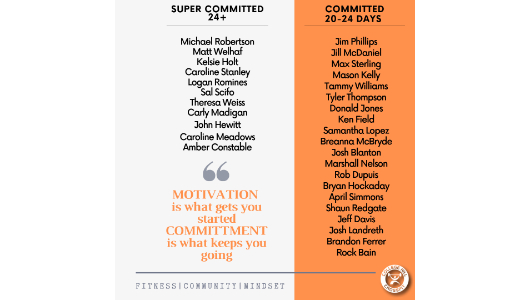 Mindset
Are you committed?
We know it can be tough to get into the gym sometimes but we are grateful for this community and the commitment you all make not only to CHC, but more importantly to yourselves. With this in mind we want to recognize those who have made a substantial effort during the month to make it into classes or take the time to get some work done in open gym!
This is why we are starting the College Hill Committed Club. For those who attend class/open gym 20-24 days during the month you will be listed under the Committed Club and those attending 25+ days during month will be listed under the SUPER Committed Club!
Please take a minute and check out the list for September and join us in congratulating this crew for their awesome effort and commitment. Who will make the list for October?!?!
Metcon
Workaholic – OPEN/PERFORMANCE (Time)
3 Rounds:
30/20 Calorie Row
15 Chest to Bar Pull-ups
Directly Into…
3 Rounds:
20 Alternating Dumbbell Snatches (50/35)
15 Thrusters (95/65)
OPEN (Rx+): As written
PERFORMANCE (Rx): Pull-Ups, 35/20, 75/55
Target: 15-20min
Cap: 25min
Workaholic – FITNESS (Time)
3 Rounds:
25/15 Calorie Row
15 Ring Rows
Directly Into…
3 Rounds:
20 Alternating Dumbbell Snatches (20/15)
15 Thrusters (45/35)
FITNESS (Rx): As written
Target: 15-20min
Cap: 25min
Next Level
Front Squat (6-4-2-4-6)
On the 2:00 x 5 Sets:
Set 1: 6 Reps @ 70%
Set 2: 4 Reps @ 78%
Set 3: 2 Reps @ 84% *RECORD IN WODIFY
Set 4: 4 Reps @ 78%
Set 5: 6 Reps @ 70%
Metcon (Time)
SKILL CONDITIONING
3 Giant Sets:
100′ Single Dumbbell Overhead Walking Lunge
25 Hip Extensions
12 Single Dumbbell Box Step-ups (24/20)
Rest 2 Minutes Between Sets
*Athlete choice on DB loading
OPEN/PERFORMANCE: As written
FITNESS: Supermans