04/13/2019
April 13, 2019
04/13/2019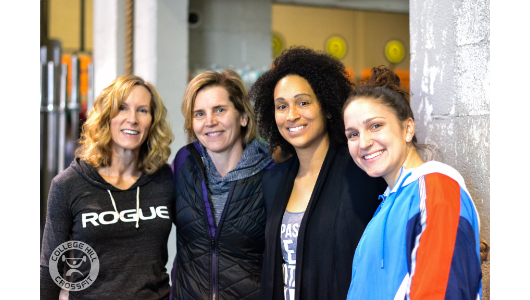 Mindset
"80% of success is showing up." – Woody Allen
We can become obsessed with achievements. It's something we can all fall victim to in our journey. We chase the weightlifting PR, chase the next promotion, chase the next "X".
As an example, let's say we're moving through a 10-Week Snatch program… and things are feeling *great*. We're 9 weeks in, and not only are we moving so much better than when we started, the same weights we started with feel so, so much easier. What used to be a heavy lift for us is a no-brainer now.
But until we move a single pound over our current PR at the end of the cycle, we don't allow ourselves to consider, that we've already PR'd. And if we test out at Week 10 of the cycle, and do not PR… what would be our immediate reaction?
The paradigm shift is this:
To not view progress as a means to an achievement.
And instead, to view progress, as the achievement.
If we can train progress to be the prize, the other half, tends to take care of itself.
Metcon
A): Me Three (Time)
In Teams of 3, 30:00 Time Cap:
100 Pull-Ups
100 Overhead Squats (75/55)
80 Box Jump Overs (24″/20″)
80 Thrusters (95/65)
60 Toes to Bar
60 Front Squats (115/80)
40 Burpee Box Jump Overs (24″/20″)
40 Clusters (135/95)
*If not completed in time cap every extra rep is 1 second added to final time.
Rx Plus (OPEN): As written
Rx (PERFORMANCE): 65/45, 75/55, 95/65, 115/80
Scaled (FITNESS): Ring Rows, 45/35, 65/45, 75/55, 95/65 Step-up overs, Abmat Situps
Target: 23-28min
Hard Cap: 30min
Next Level
B): Metcon (7 Rounds for weight)
OLYMPIC CYCLING
On the 1:30 x 7 Rounds:
1 High Hang Squat Clean (pockets)
1 Hang Squat Clean
1 Front Squat
*Record weight used in each round.
On this clean complex, this is intended to be unbroken once the bar comes off the ground for the first high hang clean. This first high hang position is just above mid-thigh, high on the body. The hang position, the following rep, is taken from the knee level. Lastly we finish with the single front squat.
C): Metcon (5 Rounds for weight)
PAUSING FRONT SQUAT & SPLIT JERK
5 Sets:
1 Pausing Front Squat (5s in bottom)
1 Split Jerk
Basing our load selection off our estimated 1RM Split Jerk.
All repetitions taken from the rack.
Start at 60%