02/04/2019
February 4, 2019
02/04/2019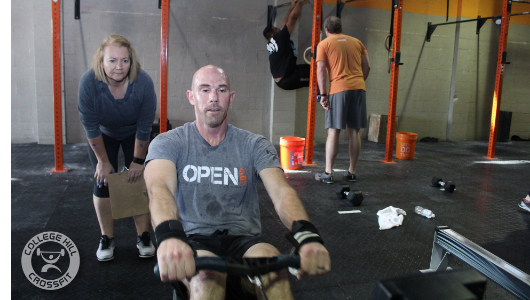 Mindset
"Those who haven't committed to mastery, have committed to mediocrity." – Robin Sharma
The message is clear: to master something, one must commit with fierce passion.
This we can all agree with, especially in the regard of CrossFit. It takes an unbreakable will, never mind countless hours and sacrifices. It demands our best foot forward, every time.
We can become borderline obsessed, said with all the positive connotations, with our goals. And we drive towards them with fervor, until we reach the goal… losing the percentage of bodyfat, gaining the pull-up, and anything in between.
But can we take this skill that we've refined, this dedication to a cause, into our personal lives?
Can we master, our temper?
Master our ability to refrain from gossip and rumors at work?
Master the will to walk the shopping cart back to where it belongs after putting the groceries in the car, despite how no one is in the parking lot to even notice?
What can we commit to this week?
Metcon
Life Jacket (3 Rounds for reps)
AMRAP 5:
27/21 Calorie Row
27 Thrusters (115/80)
27 Chest to Bar Pull-Ups
Rest 5:00
AMRAP 5:
21/15 Calorie Row
21 Thrusters (95/65)
21 TTB
Rest 5:00
AMRAP 5:
15/12 Calorie Row
15 Thrusters (75/55)
15 Pull-Ups
Rx+ (OPEN): As written
Rx (PERFORMANCE): 95/65, Pull-ups, 75/55, 55/45, Pull-ups
Scaled (FITNESS): 75/55, Jumping C2B, 55/45, Abmat situps, 45/35, Ring Rows
Target:
1 – 72/66
2 – 84/78
3 – 90/84
Next Level
Front Squat
On the 1:30 x 6 Sets:
Set #1 – 3 Reps @ 75%
Set #2 – 2 Reps @ 80%
Set #3 – 1 Rep @ 85%
Sets #4+5+6 – 1 Rep @ 90-94% *RECORD INWODIFY
*After each set, complete 25% Strict HSPU
Rx+: As written
Rx: Kipping handstand push-ups
Scaled: Pike Push-ups
Cluster
On the Minute x 10:
20 Double-Unders
1 "Cluster"
A "Cluster" is short for a squat clean thruster. A full squat clean, that moves directly into a thruster without a pause anywhere in the motion.
*Record Final weight of
Each minute starts with 20 double-unders, purposely challenging our barbell repetition. Time between sets will be on the tighter side, requiring fast weight changes. Start at 65% of 1RM Clean and Jerk, aiming to build in each minute.